Good afternoon everyone. I caused some confusion with the email Monday about the times of the online classes changing. Those modifications were for the online classes only. There is more explanation of those changes at the bottom of this email.
First, new classes! next week on Wednesday the 14th we will welcome back our instructor Jaimie to Krav Maga Raleigh! She will teach the 5:30 fitness class, and a NEW 7:30 level 1 class. Both of those are in person at Krav Maga Raleigh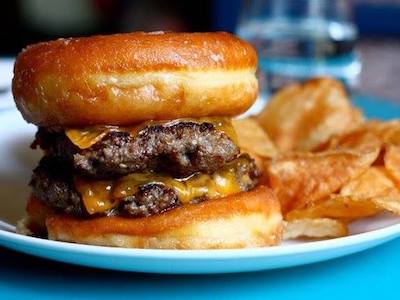 The Anniversary Cookout is next Saturday, October 17th! For those of you that are relatively new to Krav Maga Raleigh, every couple of years we celebrate our anniversary with a cookout, featuring the infamous Krispy Kreme donut burgers! We have made it 12 years so far, and a couple of those (including this one) were pretty touch-and-go, so it is an extra special occasion this year. We'd love for anyone in the Krav Maga community to join us, whether you're a member, used to be a member, friends and family, or just someone who appreciates ridiculous food!
Schedule Clarifications
There are no changes to the times of the in-person Krav Maga classes at Krav Maga Raleigh. The days affected were Mon-Thurs:
Monday
12:15 mixed level Krav Maga - this class still exists! We do not have an online class at this day/time
Tuesday
5:30 Fundamentals in person
5:45 Fundamentals online
6:45 Fitness online
Wednesday
12:15 Level 1 in person
12:15 Mixed Level online
Thursday
5:30 Level 1 in person
6:30 Level 2 in person
5:45 Mixed Level online
6:45 Fitness online
I hope that makes the schedule more clear. If you have any questions please ask, and we will see you online and on the mats!