Learn Self Defense and Get In Amazing Shape! September Specials! Krav Maga Classes
Krav Maga is a no-nonsense self-defense system where you learn the most practical and instinctive methods to get you out of harm's way. This battle-tested combat system will teach you to recognize. avoid danger - and when forced - be able to defend yourself or your loved ones aggressively and effectively.

Krav Maga is the official self-defense system of the Israeli Defense Forces and has been taught to militaries, law enforcement agencies and civilians in the United States and all over the world. Krav Maga is designed to be instinctive, natural, and easy to learn and implement. Krav Maga is appropriate for everyone from military to civilians, elite athletes to people who have never trained a day in their lives.
Learn Simple & Effective Self-Defense At Krav Maga Raleigh!
Along with the most effective self-defense techniques in the world, you will burn calories, increase flexibility, speed, and muscle strength while feeling all around healthier and more empowered. Krav Maga is a principle based system of self-defense and its techniques are accessible to the average person, not just athletes.
And with each new Krav Maga class you take, your skills will become stronger, smarter and you'll become justifiably confident in your skills. Here's just a sampling of what you can expect:
Learn all the critical Krav Maga and defense techniques
Learn to predict your attacker's moves and be ready with counter-attacks
Turn your hands, feet, knees, and elbows into lethal weapons
Develop mind-blowing strength and undying stamina needed to win the fight
Learn to defend yourself in any situation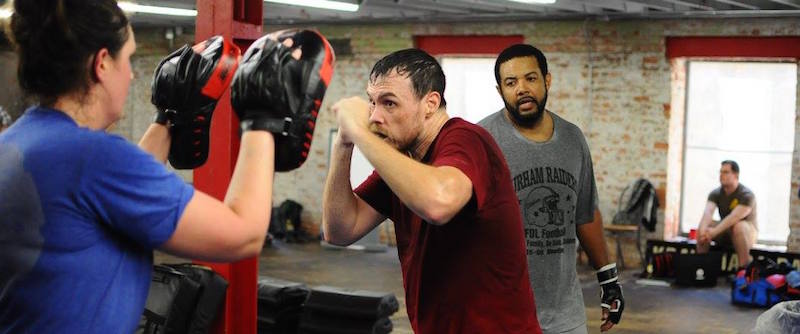 The Krav Mage Raleigh system is based on instinctive reactions so that you don't have to spend years mastering the movements to make them functional. You will not be taught forms or spend hours punching the air at Krav Maga Raleigh. You will learn the basics of striking and movement in the first few minutes of class and then we will use a variety of stress drills meant to inoculate you to the kind of duress you will experience in a real life encounter. If you're looking for a straightforward and practical means to increase your confidence, defend yourself and your loved ones, and have a blast getting in shape, this is the program for you.
Simple, Effective Self-Defense Techniques That Emphasize Instinctive Movements & Realistic Training Scenarios
To learn more about this life-saving self-defense class in Raleigh, contact us today by filling out the short no-obligation form on the side of this page. The dedicated staff at Krav Maga Raleigh is ready to teach you the ultimate self-defense program in the world.