After months of preparation we finally had the big test day on Saturday, and it was a grueling, intense, and triumphant success! All of the testers passed, which is no guarantee, and they had to earn every bit of it. Check out the photos and videos on our Facebook page to see everyone kicking butt!

A lot of Krav students, even after black belt, will remember their level 1 test as the hardest. Even if it's not the longest test you'll ever take, for most people it will be the first time in their lives they have an experience that pushes them physically, mentally, and emotionally the was a Krav test does. Congratulations to Irene, Marie, Caroline, Le, Pumulo, and Pawel for pushing through a brutal series of techniques and drills, even spending the last part of the test getting attacked by higher level students. (Thank you as well to those students for jumping in as attackers, especially when many of them had a test to take later themselves.) We look forwards to seeing them in level 2!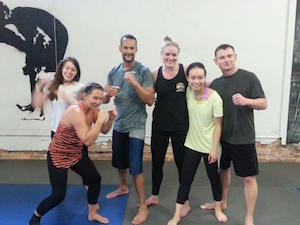 When the level 1 test was halfway through we jumped right into the level 2 test. The level 2 test is a huge jump in technical difficulty from level 1, especially with the addition of focus mitts and groundwork. And then it finishes with the crown jewel of drills: The Pit. Fighting your way out from the back of the concrete pit through endless attacks until you get up the stairs. Then once you get to the top, you get to do it all again! Congratulations to Sarah, Matthew, Sean, Jose, Marshall, and Francisco for making it to level 3!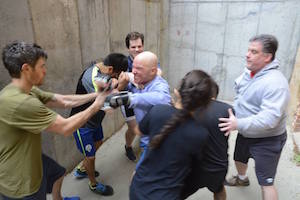 Then at noon we got started with the level 3 test, which as far as I know might still going on. As Dwight said, "I've never wanted a test I'm not personally involved in to be over as much as this one." This test was serious business, and everyone brought their absolute best. This group actually might NOT look back on their level 1 test as the hardest one! They deserve extra praise for their sparring, where they managed to bring technique, spirit, and control all at the same time. Great job Kenneth, Jamil, Luis, Chris, Emily, Monty, Mark, and Antoine for such a great performance.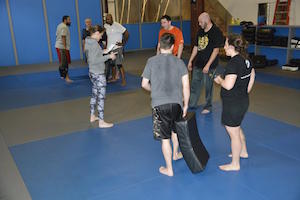 And that's a wrap! I'd like to thank everyone who showed up to cheer, especially the people that brought signs and other props. Testing is a team sport, and that includes the team members off the mats, and we couldn't do it without you. Congratulations again to everyone who tested, and we will see you in your new classes!